Aavegotchi is Back with its Flagship P2E Event - Rarity Farming Season 6
Over the next eight weeks, players can grind for GHST tokens by caring for their Aavegotchis and making them look as rare as possible.
News
Prepare to farm GHST tokens in Aavegotchi Rarity Season 6
After making a host of adjustments to its metaverse gameplay, Aavegotchi has returned with Rarity Farming Season 6, a flagship event where players compete for GHST by making their Gotchi NFTs look as rare as possible.
Like Season 5, this event features a 1.5 million GHST prize pool, split among the top players. The exciting event will take place over eight weeks, with four rounds lasting two weeks each. The first round has already begun, with a snapshot scheduled for June 29th at 2 pm UTC.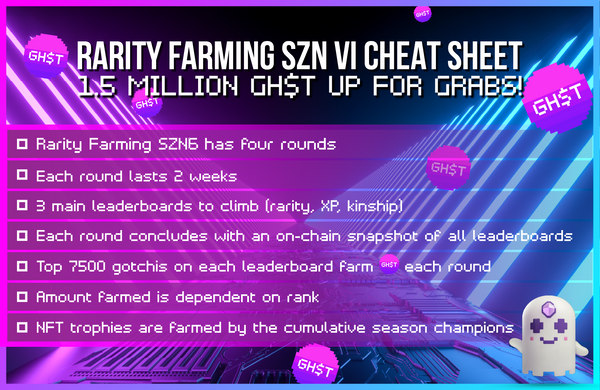 It should be noted that the competition criteria remain the same, with players being able to compete in three categories: Rarity, Kinship, and XP. 70% of the GHST payouts will go to the Rarity pool, 20% to Kinship, and 10% to the XP leaderboard.
Players can equip their Gotchis with unique Wearable NFTs to boost their Rarity or pet their Gotchis twice a day to improve Kinship. Those who want to climb the XP leaderboard must engage in various activities that grant XPs. These include voting in the AavegotchiDAO, attending community events, playing minigames, or drinking XP potions.
Users only need to hold a Gotchi NFT to join Rarity Farming Season 6. If they do not have an Aavegotchi, they can borrow one from others using the Gotchi Lending platform. In that case, all GHST rewards will be split at a set ratio agreed upon by the two parties.
For more details on how the reward structure works, check out the official post here.
Disclaimer:

The information provided on this page do not constitute investment advice, financial advice, trading advice, or any other sort of advice and you should not treat any of the website's content as such. Individuals should do their own research before taking any actions related to the product they read about and carry full responsibility for their decisions.
---
---