Aavegotchi is Launching Free for All Real Time PvP Gameplay This Month
The much-anticipated PvP game mode will be released during an Aarena Friday preview on December 16th.
News
Players can finally dispatch their Aavegotchis to some real battles
Pixelcraft Studio's flagship NFT game Aavegotchi is set to launch its first PvP gameplay during a combat preview on December 16th. Based on the announcement, the combat experience will be free for all, taking place in the Gotchiverse Aarena until December 19th.
While Aavegotchis are known to be humble farmers, the looming threat of Lickquidators has forced them to take up self-defense. Once the Aarena goes live, all Gotchis can engage in a multiplayer experience where they fight each other for glory and rewards.
At first, Aarena battles will consist of simple free-for-all combats where players will fight using Wearables or Weapons native to the Aavegotchi protocol. More game modes such as team tournaments, Battle Royale, and Capture the Flag will be introduced over time to spice things up.
How can Gotchis earn from PvP fights? According to the team, whenever a Gotchi is defeated in the Aarena, anything in their Gotchi Bag (in-game inventory) will spill onto the map. The remaining Gotchis can then collect these items by simply walking over them.
If you want to keep your earnings intact, make sure your Gotchis fulfill these three requirements during PvP fights: Spend at least three minutes in the Aarena, have not taken any damage in 15 seconds, and defeat at least one other Gotchi.
In the future, Pixelcraft will add more features to the PvP mode, such as live tipping, Elo leaderboard, private fights, NPC enemies (Lickquidators), sponsorships, and bigger tournaments. The Aarena will be released in four versions based on the roadmap below: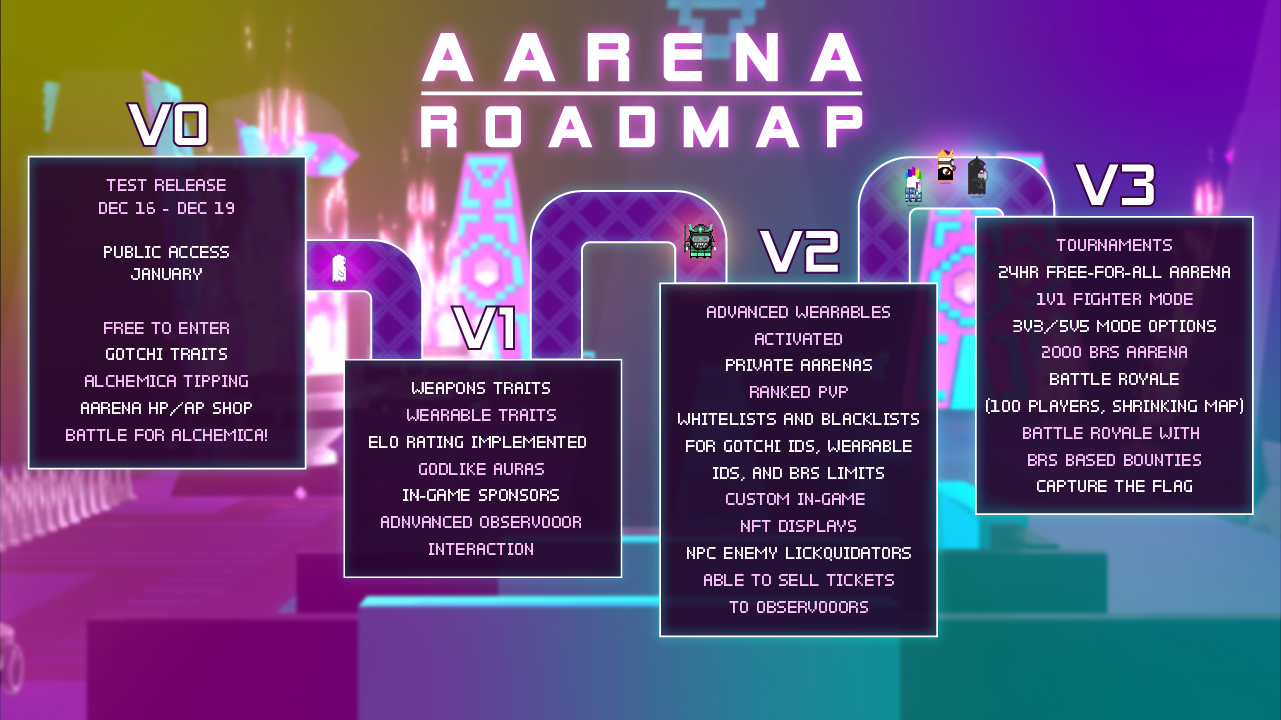 If you haven't seen it, here's a quick look at what the Gotchiverse Aarena looks like:
Disclaimer:

The information provided on this page do not constitute investment advice, financial advice, trading advice, or any other sort of advice and you should not treat any of the website's content as such. Individuals should do their own research before taking any actions related to the product they read about and carry full responsibility for their decisions.
---
---