AlwaysGeeky Games Unveils 2022/2023 Voxies NFT and Voxie Tactics Roadmap
Based on the roadmap, new Sandbox NFT avatars and a PvE game launch are some of the exciting milestones in the plan.
News
What's ahead for the Voxies NFT ecosystem?
So far, 2022 has proven to be a challenging but fruitful year for high-quality blockchain games. And Voxies is one such project that stood the test of time. Its developer, AlwaysGeeky Games, recently released an updated Voxies and Voxie Tactics roadmap showing what's to come for these Web3 projects.
Voxies is an NFT project featuring 10,000 voxel characters playable in a turn-based RPG called Voxie Tactics. The team managed to achieve several important milestones this year, such as launching new NFT partnerships, a new NFT marketplace, the first PvP game and Season 0 of Voxie Tactics, as well as enabling Voxel earnings within the blockchain title.
For Voxies, a revamped whitepaper will be released soon, followed by the new Voxies merch shop launch and a new marketplace service (Forge Recipes) to be added this year. The first half of 2023 will see Voxies launching new Sandbox NFT avatars and a questing mini-game in Beta. By the second half of 2023, a Voxies recruiting process will take place, followed by the new questing mini-game's official launch.
As for Voxie Tactics, a special Holiday Event is coming soon, with more item rewards to come before the end of 2022. In the first half of 2023, Voxie Tactics will launch its first PvE prologue and undergo some game optimization before launching the Season 1 PvP battle competition. A mobile version of the game will hit the scene in 2H 2023, along with its first PvE game launch.
Voxel Tactics is a free-to-play tactical RPG where players can earn VOXEL and NFTs by taking part in PvP battles or completing quests in PvE mode. Anyone can play and earn with free default characters before playing with Voxie NFTs to unlock higher reward rates.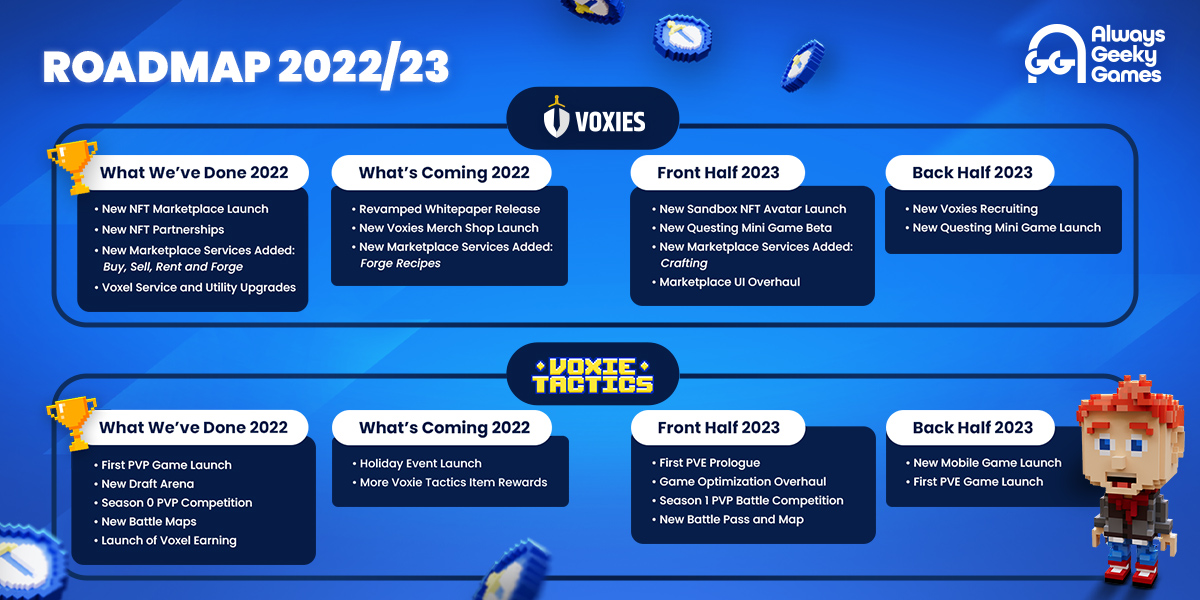 Disclaimer:

The information provided on this page do not constitute investment advice, financial advice, trading advice, or any other sort of advice and you should not treat any of the website's content as such. Individuals should do their own research before taking any actions related to the product they read about and carry full responsibility for their decisions.
---
---