DeRace Officially Launches Lucky 7 Races with 35,000 Sugar Cubes in Prizes
Players will be able to compete in 6 pre-announced races and 1 lucky race for a share of 35,000 Sugar Cubes.
News
All you need to know about the Lucky 7 Races in DeRace
DeRace, a play-to-earn NFT horse racing metaverse, has kicked off the Lucky 7 Races. It is an epic monthly event that consists of 7 races covering all available surfaces on the game platform.
According to DeRace, there are 6 races of specific lengths and surfaces, with 1 randomly drawn race for players to participate in this event. To reach the finals and compete for a share of 5,000 Sugar Cubes, players have to take 1st place in one of the 12 Qualifier races.
For instance, if you take the 1st spot in one of the twelve Dirt 2F Qualifier races on January 11th, you will be invited to participate in the Dirt 2F Finals on January 13th.
Registration is already closed for the Dirt 2F races. However, interested players can look forward to the next qualifier, Turf 10F, which will open for registration on January 11th, 9 AM UTC (first 6 Qualifier races) and 5 PM UTC (other 6 Qualifier races). Each registration to the qualifier will cost 4 $DERC in entry fees and works on a first-come-first-serve basis.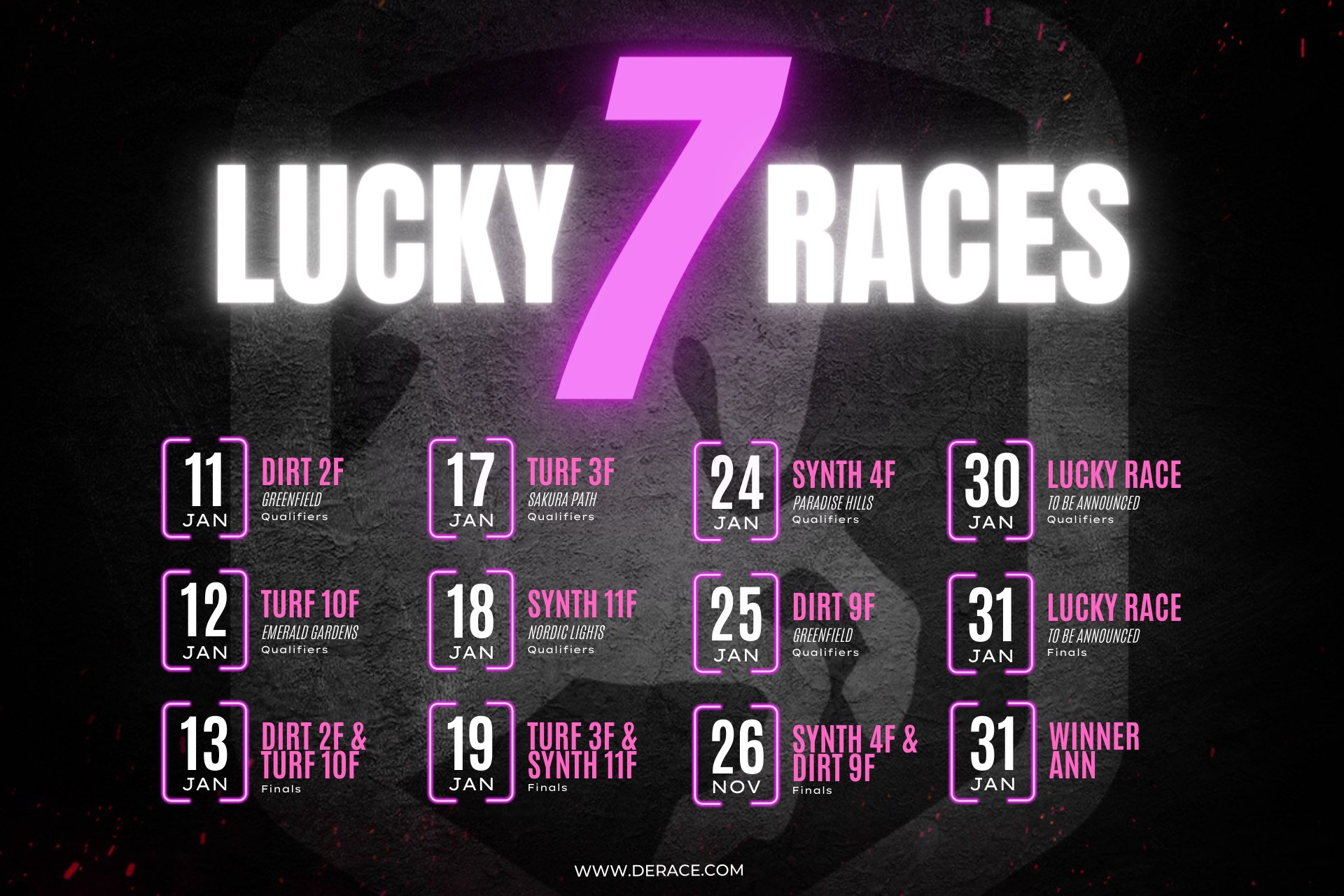 This time, the total prize pool allocated is 35,000 Sugar Cubes, split among 6 Finals and 1 lucky race (5,000 Sugar Cubes each). 5,000 Sugar Cubes will be given out to 12 players who make it to the Finals, based on their rankings as below:
First Spot: 1,000 Sugar Cubes
Second Spot: 800 Sugar Cubes
Third Spot: 500 Sugar Cubes
Fourth to Twelfth Spots: 300 Sugar Cubes each
For those who may not know, Sugar Cubes can be used to purchase NFT Chests and Keys, which can be used to unlock in-game utility NFTs that allow players to expand their gameplay in DeRace. Interested players can check out the game's official Discord for more info.
Disclaimer:

The information provided on this page do not constitute investment advice, financial advice, trading advice, or any other sort of advice and you should not treat any of the website's content as such. Individuals should do their own research before taking any actions related to the product they read about and carry full responsibility for their decisions.
---
---