Fractal Teams Up with Ev.io to Launch Fractal Cup II Tournament
Anyone with a Fractal wallet linked to their Ev account can join this free-to-play tournament to share a $5,000 prize pool.
News
All you need to know about the Fractal Cup II event
Ev.io, Solana's most popular FPS game, is back with another free-to-play tournament - Fractal Cup II - in collaboration with Fractal.
Taking inspiration from the 2022 Halloween Bash, this upcoming event will feature a similar competition format, where players fight in a 4-person co-op mode to earn SOL for every zombie killed. By doing so, players will get "e" tokens, which can be exchanged for SOL at a flat rate of $5 per 10,000e.
A $5,000 prize pool is allocated this time, with the event set to occur on January 17th, 2 pm PT. According to Fractal, this competition will last for five days or end when the prize pot is "used up" by all players. A daily earnings cap will be put in place, which changes based on how quickly the prize pool gets depleted.
In addition, participants will have a chance to find whitelist tokens for an upcoming Ev.io x Hut 8 mint on the map. These tokens will allow holders to mint an exclusive Hut 8 Schism NFT, which is readily playable and provides multiple perks, such as earning from a special prize pool dedicated to owners of these unique cosmetics.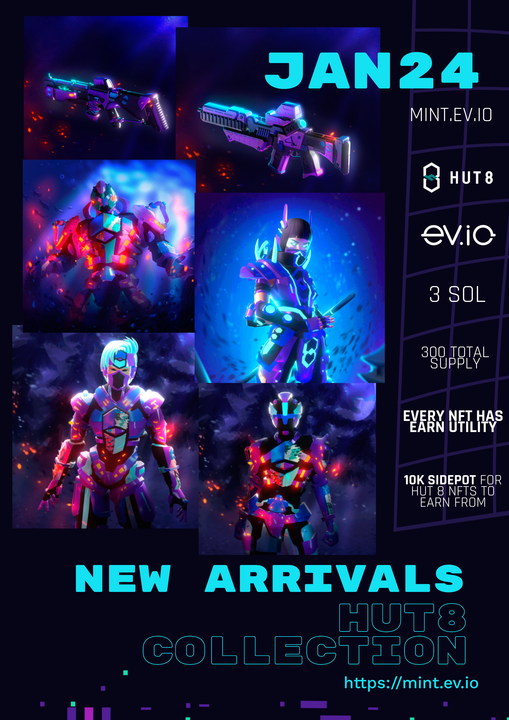 How to join the Ev.io x Fractal Cup II tournament?
Everybody can join the Fractal Cup II event as long as they have a Fractal Wallet linked to their Ev account. No NFTs are required to start earning from this tournament.
Once the event begins, visit this link, click "Play Now," and log into your Ev account before linking it with your Fractal Wallet to enter the game. NFT holders using a separate wallet will have to switch to Fractal Wallet for this tournament.
For more details, check out the official post here.
Disclaimer:

The information provided on this page do not constitute investment advice, financial advice, trading advice, or any other sort of advice and you should not treat any of the website's content as such. Individuals should do their own research before taking any actions related to the product they read about and carry full responsibility for their decisions.
---
---