Mojo Melee Kicks Off the Harvest of Doom Season with New Champion and Fresh Rewards
The spooky season goes live on October 6th, offering new exciting features and Halloween-themed surprises.
News
On Mojo Melee's Harvest of Doom Season
Mojo Melee has unveiled the 3rd season of their web-based, fantasy, auto-battler game. Aptly named "Harvest of Doom," the season goes live on October 6th, offering new exciting features and Halloween-themed surprises.
At the heart of every Mojo Melee season lies the BattlePass, and this season is no exception. Players will gain access to both free and premium versions of the BattlePass. Those opting for the premium ones can expect some exclusive perks. One of these includes the "Premium Points," which allows players to unlock extra quests to level up their BattlePass.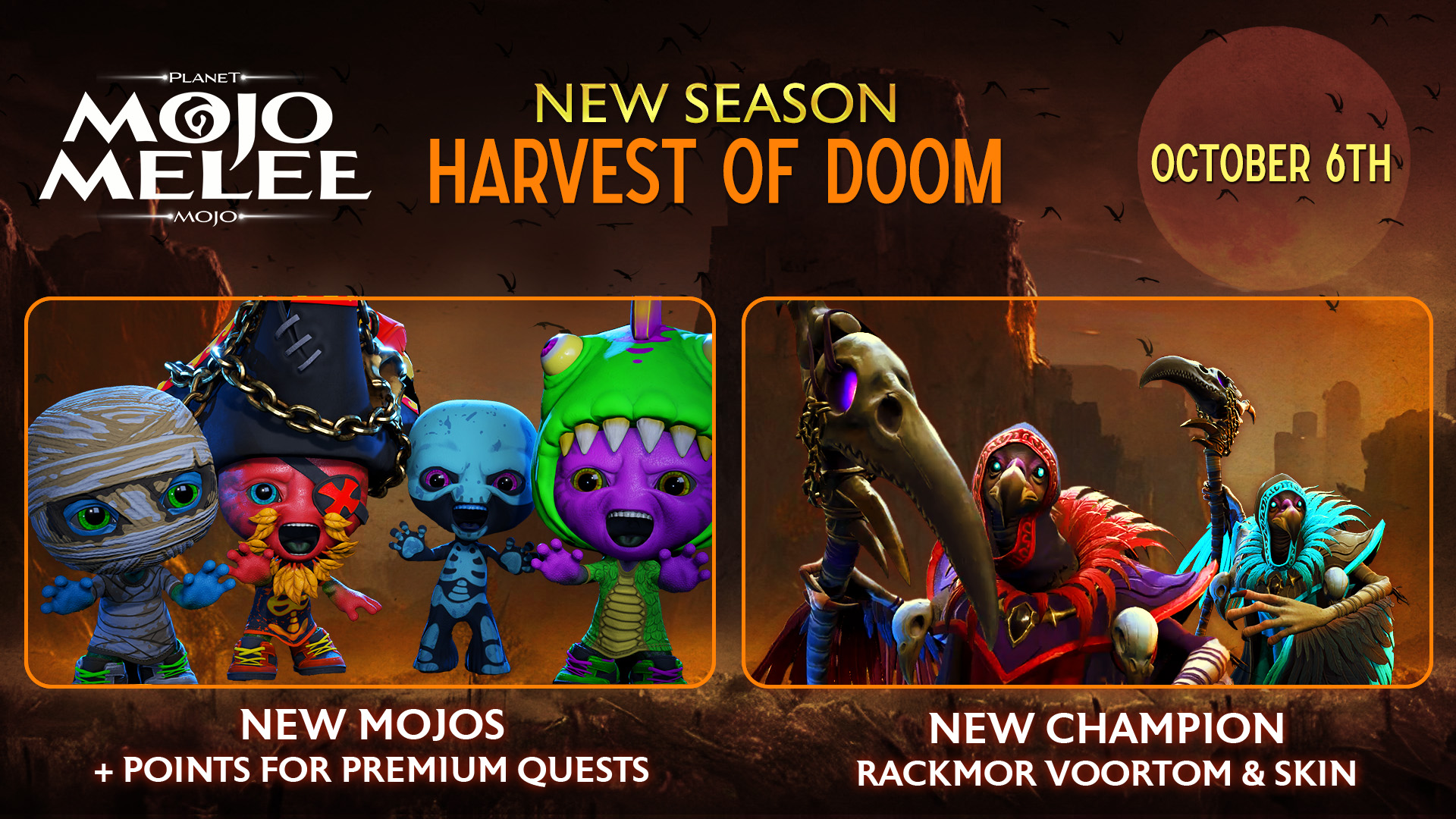 However, the spotlight undoubtedly falls on the much-anticipated new Champion, Rackmoor. Described as a vulture Champion, Rackmoor will be seen flaunting a deadly skull staff. Along the way, players can unlock an exclusive skin for this new entrant.
In a twist that has set the gaming community abuzz, the announcement also teased the introduction of new Mojos. These Mojos, the leaders of the player's team, have kept their specifics shrouded in mystery. The suspense is palpable as fans eagerly await the reveal.
In another exciting update, there's a treat for Amazon Prime subscribers. By linking their Mojo Melee with Prime Gaming accounts, they can claim a free Haile Tibeb Champion. While this Champion starts at level 1, it's a unique addition to anyone's roster.
To infuse the spirit of Halloween, the Mojo Melee team is prepping for the release of 'Spooky Mojos.' These are set to be intricately designed Halloween-themed skins for the existing Mojos, marking a delightful deviation from the standard skins.
In short, the Harvest of Doom season promises a refreshing gaming experience for Mojo Melee enthusiasts, blending the charm of fantasy battles with the allure of Halloween. Stay tuned for more updates as the season unfolds!
Disclaimer:

The information provided on this page do not constitute investment advice, financial advice, trading advice, or any other sort of advice and you should not treat any of the website's content as such. Individuals should do their own research before taking any actions related to the product they read about and carry full responsibility for their decisions.
---
---