Myria Shares 2023 Roadmap with All Eyes on its Node License Public Sale, Token Launch, and More
The decentralized L2 gaming platform is looking to start the year with a Node License Public Sale, followed by the $MYRIA token launch, new game releases, and a host of developer SDK updates throughout the year.
News
Here's a list of what's to come for the Myria ecosystem
Myria, a decentralized L2 gaming platform, has been putting in the groundwork to establish its presence in the blockchain gaming world. Now that 2023 is here, the team shares an updated roadmap showing what's to come for the Myriaverse.
Myria concluded its node presale last year with more than 4,000 nodes acquired by NFT gaming enthusiasts who believe in its blockchain gaming ecosystem. With that, the team aims to start the year with a Node License Public Sale, followed by Myria Nodes' operational launch.
There are no exact dates set in the roadmap. However, each milestone will occur in the 1st or 2nd half of 2023, as shown below. Once Myria nodes are up and running, the team will launch a host of developer SDK updates.
Myria's studio title, Metarush, will get its new lore, followed by the $MYRIA token launch. The platform will also feature a universal NFT order book, marketplace fee implementation, and new game system SDKs by the end of June'23.
In the 2nd half of 2023, Myria will unveil a range of bigger and better updates for gamers and developers alike. More advanced tools like the Game Build Wizard will be accessible, with the team working on the platform's full StarkNet migration.
After that, Myria's staking protocol will be released following the public launch of Metarush. These notable upgrades will help the brand to create an all-encompassing blockchain gaming ecosystem, which includes Myriaverse, where people connect through play in an expansive Web3 gaming landscape.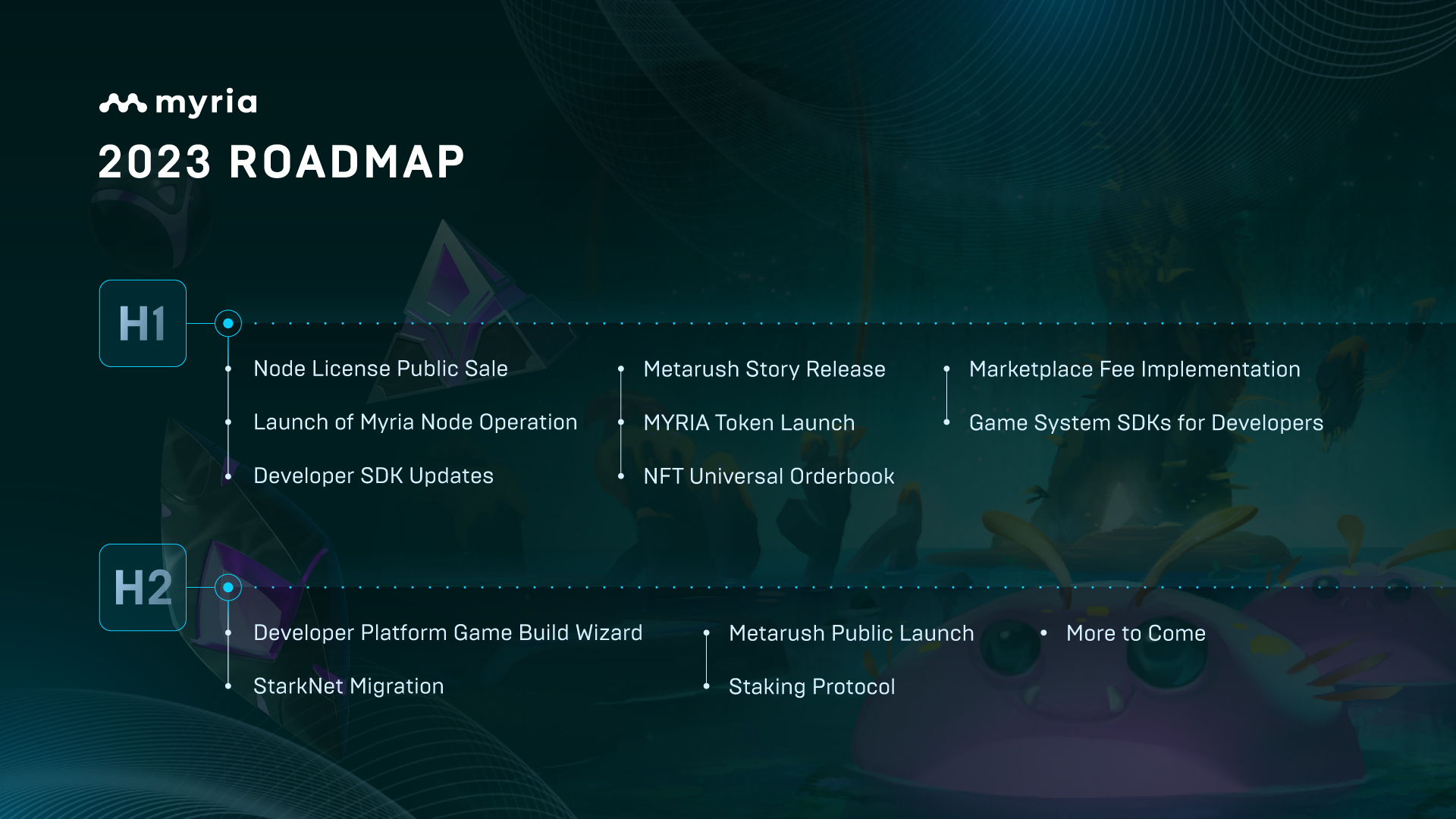 As of writing, Myria has attracted over 200 projects to build on its platform, including Psyber-X, Carnage Carnival, Zone9 Survival, Xia One, Dragonary, Nitro League, and more. Interested players can check out the full list here.
Disclaimer:

The information provided on this page do not constitute investment advice, financial advice, trading advice, or any other sort of advice and you should not treat any of the website's content as such. Individuals should do their own research before taking any actions related to the product they read about and carry full responsibility for their decisions.
---
---