Ronin Network Introduces New Web3 Game Client Mavis Hub 2
The Hub 2 client will be a one-stop gaming platform for players to access all Axie Infinity games.
News
Check out Mavis Hub 2 - the new desktop client by Ronin Network
Ronin Network, the Ethereum sidechain of Axie Infinity, has launched Mavis Hub 2, a new desktop client for all Ronin PC titles.
According to the announcement, Mavis Hub 2 is an upgrade to Mavis Hub 1, featuring a brand new UI with a more detailed game section. This platform is now home to many popular Axie games, including Axie Infinity: Origins, Homeland, Raylights, Axie Classic, and Defenders of Lunacian Land (DoLL).
Players can access any of the titles above by scanning a QR code with their Ronin mobile app. However, for now, Axie DoLL is only accessible via Windows and Android APK, while Raylights is only playable on web browsers. Axie DoLL will be available for macOS in a future update soon.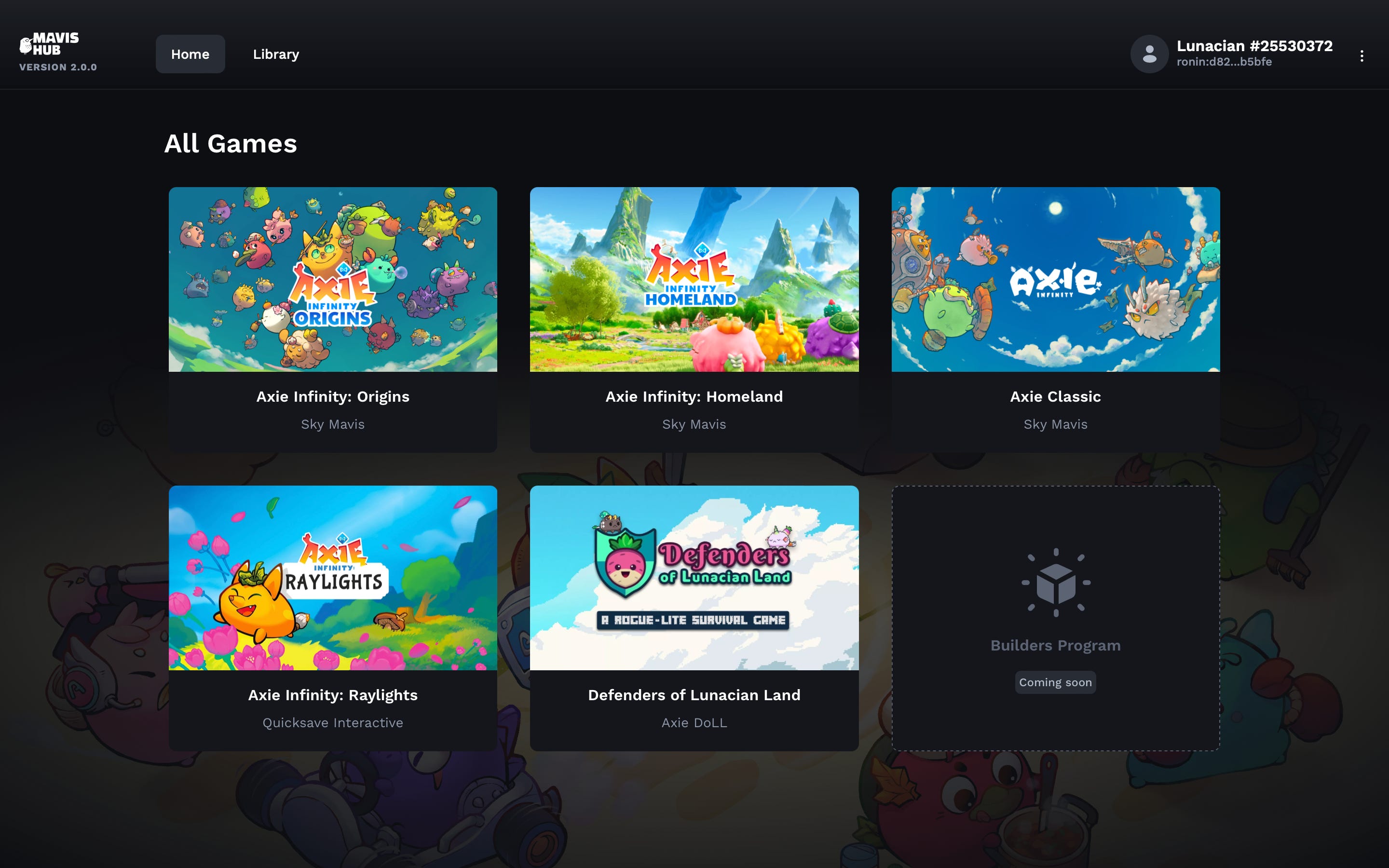 According to Ronin, the Mavis Hub 2 client is 90% smaller than its predecessor. This reduction in size for both the macOS and Windows clients is possible without compromising their performance.
Though it is an improved version, the Hub 2 client does not yet support Origin eSport and Axie Infinity eSport. Players looking to enter these tournaments will need to continue using Mavis Hub 1 until the next release.
It's worth noting too that Mavis Hub 1 will not auto-update to Mavis Hub 2 since this upgrade is not fully developed. Those who are interested can download the new client here.
The latest update comes shortly after the launch of Saigon Validator Program, which allows users to battle-test Saigon, an open testnet of Ronin. As 2023 kicks into high gear, the team is expected to release more features and upgrades to support the vast ecosystem of Axie.
Disclaimer:

The information provided on this page do not constitute investment advice, financial advice, trading advice, or any other sort of advice and you should not treat any of the website's content as such. Individuals should do their own research before taking any actions related to the product they read about and carry full responsibility for their decisions.
---
---