Star Atlas Employs Business Cycle Analysis in Q1 2023 State of the Economy Report
ATMTA Inc. has used real-world business cycle models to assess the economic success of its gaming metaverse in the first quarter of 2023.
News
Star Atlas' economy went through 3 business cycles in a year
Star Atlas, a AAA RPG on Solana, has released its first-quarter economic report for 2023. The game's primary developer, ATMTA Inc., has employed real-world business cycle models to analyze the economic success of its gaming metaverse.
By applying the methods of McCracken and Ng (2015) and different variables such as Atlas wages, net investment, labor force, and ATLAS/USD comparison, the team managed to identify three complete business cycles in Star Atlas' domestic economy for 2022. The blue shading in the figure below represents the three recessionary periods. According to the team, this has allowed them to define key indicators for data runners and macro researchers and create a panel dataset comparable to the ones maintained by OECD and IMF.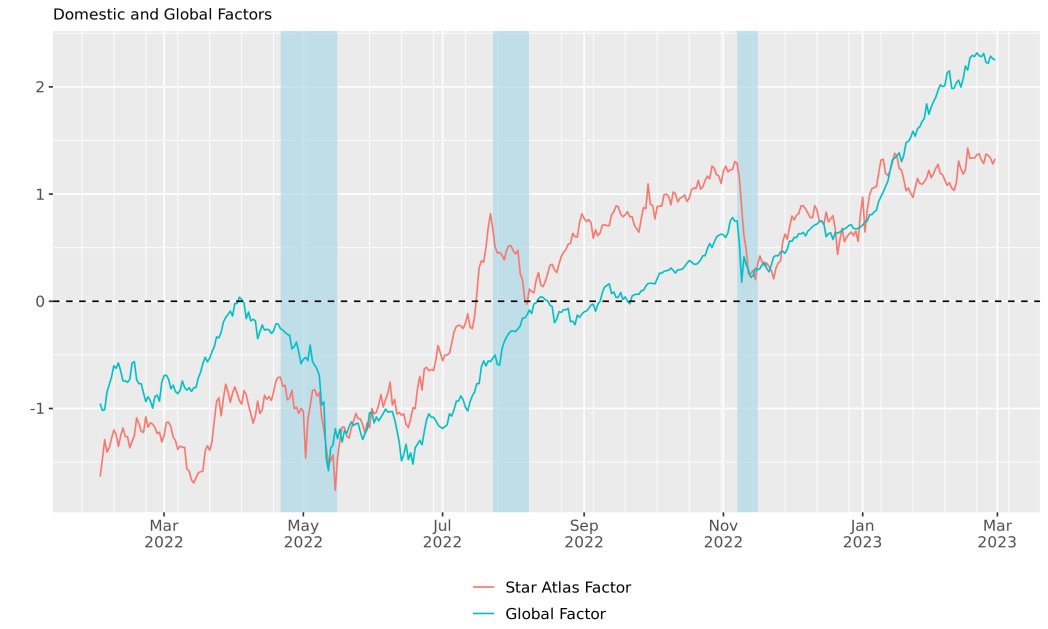 The report also contains detailed explanations and calculations, allowing the community to see how the metaverse economies work similarly to real-world economies.
There are also several highlights from the various sectors of Star Atlas' economy. In Q1 2023, there was a slight increase in ATLAS wages from in-game activity (1.02%). According to the team, this growth was caused by an increase in average wages per ship (+6.70%), a decline in employment rates (-5%), and a relatively constant labor force size (-0.7%). The average wage increase of ships added in December accounted for roughly half of the rise in ATLAS earnings. The labor force grew the most in January but then declined in February, wiping out all the gains. Higher-class ships, such as commanders (+3.8%), large (+3.2%), capital (+1.9%), and medium-class ships (+1.3%), had seen the highest labor force growth in Q1.
Although the FTX meltdown nearly destroyed Star Atlas' operations toward the end of 2022, the community managed to develop a two-phase recovery plan called The Golden Era Start Sequence to extend the project's runway. Today, the gaming metaverse has remained viable thanks to its community. To hype things up, Star Atlas has dropped an exciting sneak peek showing new in-game developments for 2023.
Disclaimer:

The information provided on this page do not constitute investment advice, financial advice, trading advice, or any other sort of advice and you should not treat any of the website's content as such. Individuals should do their own research before taking any actions related to the product they read about and carry full responsibility for their decisions.
---
---