Universal Studios Patent Reveals Plans for NFTs in Theme Park Attractions and Video Games
One of the company's most recent patents talks about customized NFTs for theme park visitors.
News
Universal will be working on customized NFTs for theme park goers
Universal City Studios LLC, a major global entertainment firm, is looking into ways to use NFTs in theme park attractions and video games. According to one of its most recent patents, NFTs and blockchain tech can be used to create a customized experience for all theme park visitors.
The patent application, titled "Systems and Methods for Customized Non-Fungible Tokens Corresponding to an Amusement Park Attraction," was submitted in July 2022 and published on January 26th, 2023. The paper goes into detail about how visitors to one of Universal's attractions might be provided with NFTs, which can be used to unlock in-game items.
These NFTs, according to the paper, could be any digital media that captures visitors' exclusive moments while interacting with an attraction. It can be a still image, video, animation, GIF, or audio generated when visitors interact with a reference object, like a classic Harry Potter wand or a toy sword in the store. This also implies that Universal would collaborate with the companies whose rides it hosts in order to provide more value to customers through blockchain.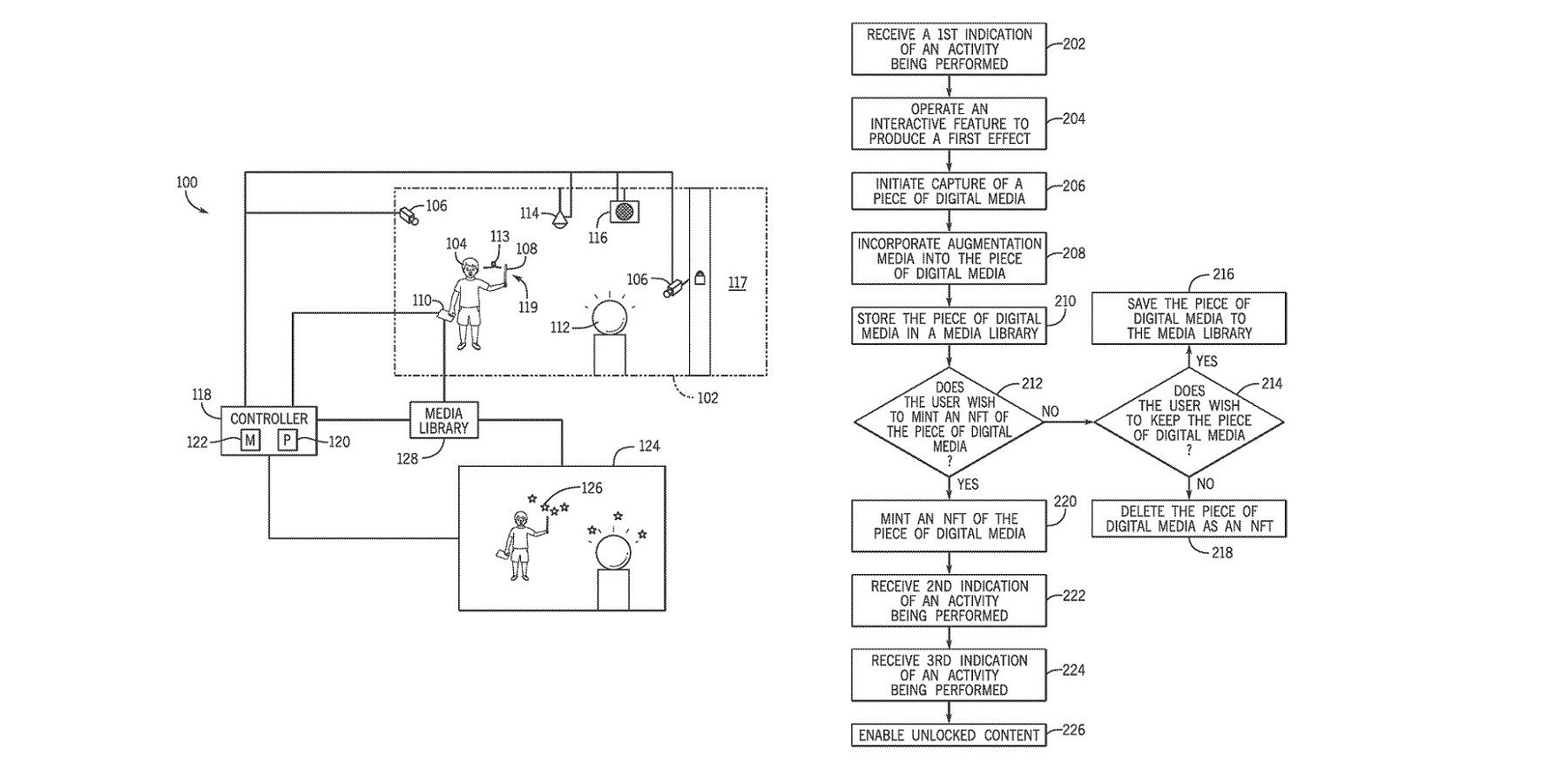 However, it is not mandatory for users to mint their digital media as NFTs. Based on the flow chart above, visitors can always keep their digital files as it is in a separate media library. Even so, it's interesting to see how the firm recognizes the value of ownership through NFTs.
"Mere digital images may not impart the same feeling of ownership that physical photographs do," wrote Universal in the filing. "Ownership of NFTs is recorded on the blockchain or other distributed ledger and can be transferred, providing for the tokenization of the digital media. An NFT, being certifiably unique, may impart a feeling of ownership, similar to a unique physical object, such as a physical photograph or a collectable."
It remains to be seen whether Universal Studios will use NFTs or blockchain tech at any of its amusement parks. If that happens, it will bring a whole new level of customization to the theme park experience, allowing everyone to create lasting memories of their visit.
Disclaimer:

The information provided on this page do not constitute investment advice, financial advice, trading advice, or any other sort of advice and you should not treat any of the website's content as such. Individuals should do their own research before taking any actions related to the product they read about and carry full responsibility for their decisions.
---
---